Pride Raptor Mobility Scooter
Get fast speed and advanced safety features with the Pride Raptor, our fastest scooter to date.
The Pride Raptor Mobility Scooter features a sleek and solid design for enhanced stability and travels up to 8 mph, so you can drive around your community in style! A hand brake with regenerative braking system ensures a gradual slow down when the throttle is released. A full LED lighting package with front and rear lights and directional signals offers full visibility for increased safety and peace of mind. Drive longer and farther with a per charge range up to 31 miles and enjoy a smoother ride over varied terrain with front and rear suspension.
The user-friendly tiller features an easy-to-read LCD console so you can monitor your estimated speed, mileage and battery display. The rear, lockable storage compartment under the seat provides a safe place for your personal items, and is equipped with a seat support rod. With a 28.5 Stone weight capacity, the Raptor is the perfect scooter for anyone and everyone.
Feel the wind in your face. Discover the thrill of the Raptor!
Hand brake

with regenerative braking system



Full LED lighting package with directional signals and brake lights that offer full visibility for increased safety

Easy-to-read LCD console with which shows estimated speed, mileage and battery display

Secure, lockable under seat

storage compartment with seat support rod




Sleek and solid design for enhanced stability

Front and rear suspension

Front storage compartment located on the tiller


Limited recline, fold-flat seat with manual adjustment and angle/width adjustable armrests

Two rear-view mirrors

Tubeless pneumatic tires for a smooth ride

Battery Weight (each)

23.8 kg Each



Weight Capacity

28 Stone 8 lbs



Maximum Speed

8 mph (12.8 km/h)



Ground Clearance

1.3 in. (35 mm) at

anti-tip

bracket, 6.1 in. (157 mm) at side deck, 3.5 in. (91 mm) at center of frame




Overall Length

151 cm (59.34")



Overall Width

69 cm (27")



Turning Radius

151.4 cm (59.64")



Standard Controls

LCD console with which shows estimated speed, mileage and battery display




Total Weight (without batteries)

94.6 kg (208.6 lbs)



Suspension

Front and rear



Battery Requirements

Type: Two 12-volt, deep-cycle Size: 75 Ah (standard)



Seating

Type: Limited recline highback with headrest Weight: 37 lbs. (16.8 kg) Material: Black Vinyl Width: 20 in. (508 mm) Depth: 18 in. (457.2 mm)



Tyres

Type: Tubeless pneumatic Front and Rear: 15.2 cm (16")



Regenerative Hand Brake System
Gradually slows down the scooter when the throttle is released.
Full LED Lighting Package
Front and rear LED lights and directional signals offer full visibility.
Easy-to-Read LCD Console
Shows estimated speed, miles driven and battery life.
Rear Under Seat Storage
Lockable compartment with seat support rod stores your personal items.
If you have a long-term illness or are disabled, you don't have to pay VAT on certain goods and services that you buy in the UK. In general the equipment covered by this scheme are things that are of practical help to you because of your illness or disability.
We list all products with the Full VAT price, however when you click that product you will see the EX TAX price, along with VAT inclusive prices. During the checkout you can if you are VAT exempt enter your details and if the product is also allowed to be sold with VAT at Zero then the VAT element will be removed during your checkout stage.
If you are in any doubt as to whether you are eligible to receive goods or services zero-rated for VAT you should consult Notice 701/7 VAT reliefs for disabled people or the HMRC National Advice Service on 0845 010 9000.
What counts as a long-term illness or disabled? For VAT purposes, you have a long-term illness or are disabled if you meet any of the following conditions:
you have a physical or mental impairment which has a long-term and substantial adverse effect upon your ability to carry out everyday activities
you have a condition that the medical profession treats as a chronic sickness, such as diabetes
you are terminally ill.

So if you don't qualify if you are elderly but otherwise able-bodied, or if you're only temporarily disabled or incapacitated.You don't have to physically buy the goods in person. If your parent, guardian, wife or husband buys the goods and services for you, then you will not be charged VAT.
What counts as personal or domestic use? Personal or domestic use means that the goods or services are supplied for your own private use, rather than for business purposes. If you are purchasing for a business please call us and we will assist you in placing your order.
Engineer Delivery Mobility Scooters
(optional but recommended for all scooters)
To ensure you get the very best service when purchasing a mobility scooter. You can opt for a our Engineer Delivery Service.
You can also select Our Home Delivery by Engineer and Set Up Service Plus Optional 12 Months Parts and Labour Home Callout * - Meaning any parts and Work required during the first 12 months can be carried out at your home without any disruption or need to return the scooter to us for Repair - This gives you complete Piece of Mind and knowledge that you are getting the very best service, as quickly as possible
If your mobility restricts you from safely assembling your new product or perhaps you live in a rural area or flats, our Engineered Delivery option would be our recommendation. This service is only available to our customers on the UK mainland. Engineer Deliveries are made between 7 and 14 working days from the date of your order. We will keep you informed of when this is liekly to be and our engineers will arrange with you the best day for delivery with you.
The Engineered delivery service on all Mobility scooters we provide is optional, however you do have the option on mobility scooters to opt for our Box only delivery service. This will ensure you receive the scooter faster than the engineered delivery service and is ideal if you are happy to take the scooter out of the box and do the minimal assembly and preparation required.
You will receive a phone call from our engineers to arrange an appointment suitable for you

Once your appointment has been booked our engineers will perform a pre-delivery inspection to ensure your product arrives in perfect condition, fully charged and ready to go!
Your new Mobility product will be delivered and assembled by a trained technician; the technician will assemble and test the basic operations of your new product at your home. Once everything is ready to go, the engineer will give a demonstration of your new product to ensure you know how it works.
The engineer will demonstrate for you the basic operations of your new product; charging, preparing for transport and assembly. The engineers will then remove any unwanted packaging when they leave.

Engineered Delivery Features.
Pre-delivery check.
Full onsite assembly of your product.
Full onsite demonstration of your product.
Demonstration of daily use of your product.
All Packaging removed.
Handover certificate on completion.
We aim to provide the engineered delivery service to our customers to allow the safe assembly of larger mobility products to ensure you get the most from your mobility product
Our Warranty Explained
With the warranty on our products we aim to offer complete peace of mind to you that should a problem arise with your product any issues can be dealt with swiftly.
We pride ourselves on offering excellent support for all power products.
STANDARD
All items come with the 12 months manufacturer parts-only warranty, generally 9 times out of 10 any issue can be sorted out over the telephone to get your equipment running again.
All warranty work can be carried out Free of Charge if you item is returned to us, we can arrange collection of your Power Product for £90. We aim to carry out any warranty works and return your item to you within 14 days
Any engineer call out to your home to carry out any work is charged at £95 per visit.
However :
ENHANCED
As an additional option for those that do not want to have to return the item to us themselves for warranty repairs, we are now starting to offer an enhanced 1 year warranty for the cost of £60 this covers all parts and labour and an engineer to visit your property up to three times to fix an item should it go wrong, eliminating the need to ever return the item should it develop a fault. This will be selectable as an option on the mobility scooter or powered product. And is a option when purchasing your product.
If you should have any questions or queries regarding our warranty procedure please don't hesitate to give us a call.
Smart Lifter

A range of hoists that make easy work of loading and unloading wheelchairs, mobility scooters and powerchairs from your vehicle

Easy to use

Lifts all types of scooters and powerchairs

Manufactured in the UK

Over 300 vehicle specific installation kits

Lifts up to 200kg

Transfer easily to your next vehicle

Lift and load in just 60 seconds!
Simple four button control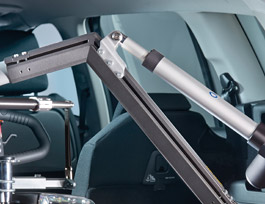 Solid build quality lifts up to 200kg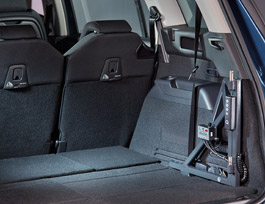 Leaves space in the boot when not in use
To make an enquiry about the Smart Lifter please fill out the form below
This Month we are offering a FREE Hi Vis Vest/Jacket that can be worn by you or draped over the back of your scooter /Powerchair to ensure you are SAFE this winter
Pride Raptor Mobility Scooter